At Brackenwood, we have completed thousands of installations since our inception in 1987. We could not be prouder of the work we have done for homeowners across the South of England, including Hampshire, Berkshire, Wiltshire, Surrey, West Sussex, and Dorset.  
One thing we have learnt over the years is that every customer has different tastes and ideas, and their requests for our products also depend on the space they have and the look of their home.
So, we wanted to show you five very different Conservatories that reflected the very different tastes and preferences of our homeowners, to give you an idea of what you can achieve with your own home.  
The Single Storey Extension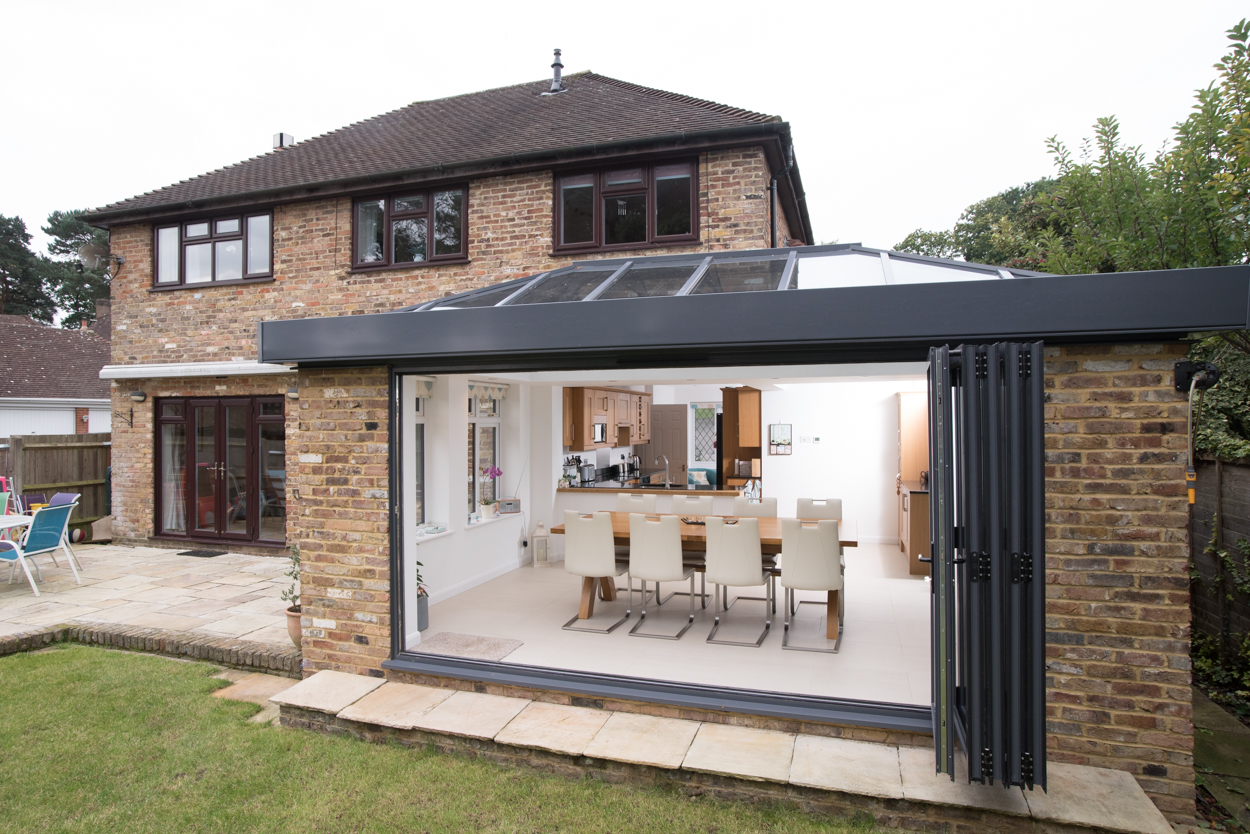 This beautiful Single Storey Extension provided this homeowner with a charming modern space that they wanted to utilise as part of everyday life.
You can see how the extra room has become an essential part of this home. Incorporated into the home's existing design, Brackenwood has elongated the living space, so that these homeowners could enjoy a plush dining space that really made use of some redundant space in their garden.  
 
Plenty of natural light now floods the home thanks to the Lantern Roof Light installation, and Bi Fold Doors allow easy access to the outdoor space to make entertaining easy and enjoyable.
More natural light now filters through this entire room, front to back, making this a light, pleasant place to spend time. 
Not only that, but with Brackenwood's double glazing, the installation in energy-efficient, warm, and safe.
If you want to design your own Bi Fold doors, you can now do that with our Bi Fold Door Designer. 
 
The 'Restricted Space' Conservatory 
 This Classic Conservatory was the perfect addition to this home, because it made excellent use of a limited amount of outdoor space.
You can see how we have incorporated its design onto the side of the home's existing internal space, making it a free flowing room that is easily accessible in the home. It is elongated, light, airy, and above all, energy-efficient and safe. 
This type of conservatory is excellent for making the most of smaller spaces. The use of Bi Fold doors again allows the homeowner to fully open the space to the garden, so they can make the most out of their external space too.
The sleek, modern Aluminium design also sets this apart from the rest of the home, which makes it a beautifully modern and updated area that is eye-catching and unique. 
 
The Classic 'P-Shape'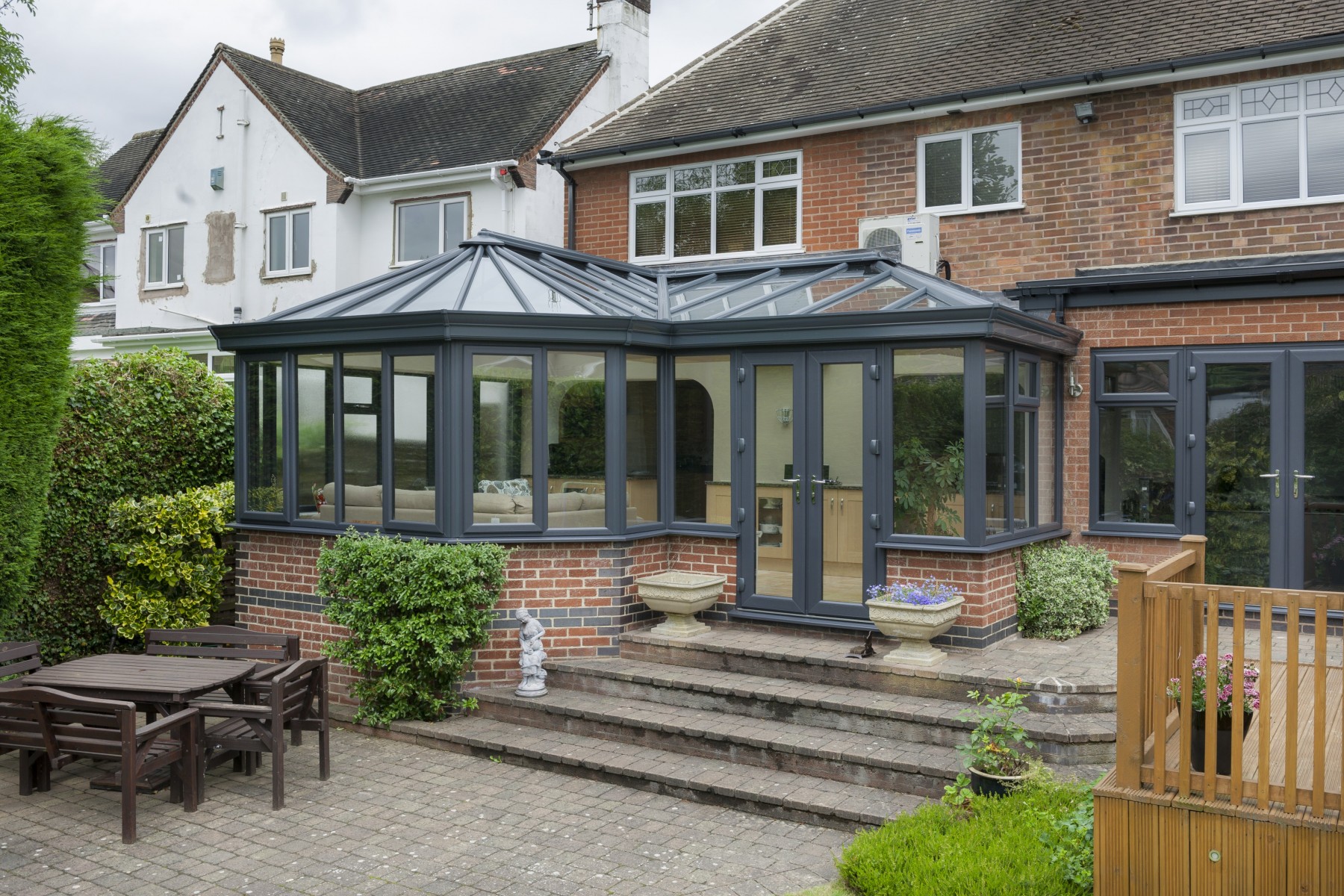 This classic 'P-shaped' Conservatory was the ideal addition to this property. Seamlessly added on to the existing structure of the home, we built up the front of the Conservatory with brick - choosing colours that were sympathetic to the existing home's design. 
Curved archways were installed into the home instead of internal doorways, helping the homeowner to make full use of the natural light that is filtering into the home through their lovely new Conservatory.  
Set at the top of the stairs, this Conservatory made a beautiful feature in the garden, and it was turned into a cosy living room where the homeowners could enjoy some quality time in the sun.
French Doors were employed this time as they matched the other rear French doors that were installed. This made good use of the space that was available, making everything look harmonious. 
 
The Ornate Ceiling 
 This extension had one focus - plenty of natural light. And that's what this lucky homeowner received when Brackenwood installed this beautiful double-glazed Orangery roof.
This roof helped make this unique space beautifully light and airy. They also considered the amount of light, which is why there is a solid section of roof around the entire base of the glass. This helps to detract light away from devices.  
As you can see here, they now use this room to watch television in - a functional room to be used every day.
Down lights also complement the space, helping to light up the room at night, while they still enjoy the beauty of the night sky. With light flooring, they have lifted their internal space, making it a pleasant place to be.
Curtains also make this a cosy room at night, keeping it private from the world.  
 
The Private Conservatory 
 So, when you think of a Conservatory, you don't necessarily think of it being the most Private part of the house with all that double glazing, right?. However, this Solid Roof did the job.
With the help of Brackenwood who are Solid Roof specialists, we helped turn this space into a beautiful and comfortable living room that is used every day by the homeowners. Again, there are downlights to make reading easy at night and to help reduce glare on the TV screen.
However, the beautifully designed double-glazed roof lights help plenty of natural light filter in.  
French doors also allow the homeowner to easily access the garden, but you can see the primary function of this room. They have used blinds to ensure maximum privacy at night, but the panoramic windows help them enjoy their beautiful garden during the day. 

Don't forget - Brackenwood have an amazing summer offer waiting for you! Check out the video below.
https://www.youtube.com/watch?v=LD1yg2F2jFg
You can read more about 0ur Complete Guide to Conservatories HERE.
All of these conservatories have one thing - and that's double glazing by Brackenwood. Read more about how to make the most out of your double-glazed windows HERE.
Brackenwood installs beautiful Conservatories, Orangeries, Single Storey Extension, Solid Roofs, and more. If you want to find out more about how you can get the conservatory of your dreams, Contact Us today.