Increasing the value of your home is always a smart investment, especially if you're planning to sell in the future. Home improvements are the best way to achieve this.
Upgrading your windows and doors may seem like a difficult step on the ladder of home ownership, but it can have a significant impact on your home. It can even help increase the value of your home. Make a smart investment for your home, with Brackenwood.
By replacing old windows and doors with modern, energy-efficient options, you not only improve how your home looks, but also its functionality and safety. 
In this article, we'll explore why upgrading your windows and doors with Brackenwood is such a smart investment. We will also look at how prioritising quality, style, energy-efficiency, and safety can result in a higher return long term.
We will also discuss the importance of consulting with our team of professionals at Brackenwood who can help you make the best choices for your home and budget. 
Replacing Old Windows and Doors 
Old and tired windows and doors not only take away from your home's appearance. They can also be energy-draining and unsafe, costing you more money in the long run.
Updating your old glazing can have an immediate impact on your home's value, as it assures potential buyers, they won't have to incur significant replacement costs so soon after buying the home.  
Newer installations are not only visually appealing, but they are also energy-efficient, saving you money on energy bills which is only a good thing in today's climate.
uPVC window installations are a great alternative when replacing old units. That's because they need minimal maintenance and they last. Read more about them HERE.
When investing in new Windows and Doors, prioritise quality and style, whilst also ensuring you choose products with tailored safety features that are designed to keep you safe 24/7. Look for the BSI kitemark and don't forget the value of FENSA-approved installation.
Don't compromise on quality and opt for professional consultation with a member of Brackenwood's team to guarantee you get the best options for your home.  
Consider upgrading your windows and doors with Brackenwood today. Request a quote now. 
Here are 7 signs that your windows need replacing sooner than you may think. Read our blog HERE. 
Investing in Energy-Efficient Options 
Updating your home with Brackenwood means that you get energy-efficient Windows and Doors that can greatly enhance your property's value.
Energy-efficient double-glazed Windows and Doors save you money by decreasing heat loss in the winter, conversely preventing heat gain in the summer. They also reduce noise pollution and maintain a comfortable indoor climate.  
A property that prioritises sustainability and cost-effectiveness will be highly valued in the real estate market. Potential buyers will be on the lookout for homes that have a high standard of double glazing newly installed.
Investing in energy-efficient options when replacing old windows and doors is not only beneficial to your wallet. It is also good for the environment, ensuring that you don't have to heat your home at a higher temperature for longer. Or that they don't release all that heat back out into the atmosphere. 
The Glass and Glazing Federation has a calculator that demonstrates how much you could save with Brackenwood's double-glazed Windows and Doors.
Customers that were fitted 20 years ago and updated recently have remarked that they have seen a £30 per month reduction on their energy bills.
Over a period of 10 years, for example, you could save an enormous £4921 on your energy bills. This is a saving that speaks for itself. Cheat rising energy prices and save energy with an energy-efficient home that requires less heating overall.
Why not check out our blog on energy-efficient homes? Read it HERE. 
Prioritising Quality and Style 
Make a smart investment for your home. Choosing high-quality Windows and Doors for your renovation project not only enhances the overall appeal of your home, but it also increases its value significantly.
Opting for styles and designs that complement the architecture of your home can add a touch of elegance and sophistication. Take Brackenwood Composite Doors, for example.
The quality of their finish and their wood-like appearance mean that you get a classic looking door that is robust and built to last. 
Incorporating unique features such as custom colours, finishes, and hardware can add a personal touch that accentuates your home's beauty and give you that opulent style you have always been craving.
It's important to consult with our team to ensure that the styles you choose align with your needs. Investing in quality, tailor-made Windows and Doors by Brackenwood is a smart choice that will increase your home's value instantly, providing long-lasting value and assurance.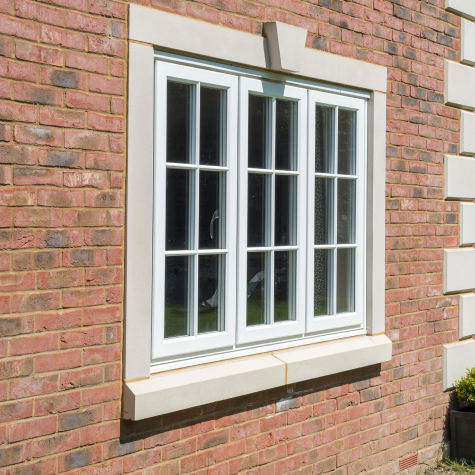 Prioritising Safety Features 
When it comes to purchasing new windows and doors, safety should be a top priority. Installing locking mechanisms and shatter-resistant glass can deter burglars and safeguard your home.
Potential buyers are often willing to pay more for homes with these safety features, especially as they prioritise security in their home search.  
At Brackenwood, all of our products carry multi-locking devices that make sure your installation is held closed tightly at multiple points to prevent any one point of entry.
Here are more of Brackenwood's security features: 
400% - More Locking Contact Area 
High Security SAC Multi-point Locking system 
13-point locking system with unique corner drive design 
400% more shootbolt contact area 
Easy-glide mechanism tested to 100,000 cycles (equivalent to 30 years heavy use) 
BS7950 tested, exceed standard 
Internal Glazing Beads 
Internal Security Glazing Clips 
£1000 Forced Entry Guarantee 
Besides, keeping your family safe and secure is undoubtedly a top concern for any homeowner. Make sure to invest in high-quality locks and other security features to ensure your home is as safe as possible. Not only will this increase your home's value, but it will also give you peace of mind.  
Check out our blog on how replacement double glazing makes your home more secure HERE. 
Consulting with Professionals 
When it comes to investing in new windows and doors for your home, seeking professional advice is crucial. Choosing reputable professionals like the team at Brackenwood who already have thousands of five-star reviews is a sound choice.
We can evaluate your property's needs and provide expert recommendations for the best options available. Our team will advise you on various styles, designs, and features available to you. They will also keep in mind your personal preferences, budget, and overall goals.  
This can help you make an informed decision and ensure that you're investing in high-quality products. These will not only increase your home's value but offer long-term benefits - a sound investment for you and your home.
So, read some of our reviews and make sure that you have trustworthy professionals on your side.
Chat to one of our team NOW. 
Never Compromise on Quality 
Investing in high-quality windows and doors might seem like an expensive option, but it's essential to remember that it's a long-term investment.
High-quality windows and doors can last up to 20 years with proper maintenance. So, compromising on quality to save a little money in the short-term can lead to more expensive repairs in the future.
Instead, prioritise high-quality options that provide long-term comfort, security, and peace of mind. With the Brackenwood's high-quality windows and doors, you can increase your home's value. Enjoy the many benefits for years to come. 
Read about our range of doors HERE.
Make a Smart Investment For Your Home
Replacing your home's windows and doors is an excellent way to increase its value instantly. Investing in efficient home energy solutions and high-quality options not only saves money on energy bills. It also enhances the overall appearance of your home whilst improving the safety. 
Prioritising safety, choosing styles that complement your home's architecture, consulting professionals, and never compromising on quality can all contribute to higher returns when it comes time to sell.
Brackenwood is always on hand to help guide you through the installation process, working with you and your budget to make sure you get the very best quality double-glazed products for your money. 
Get quality assurance from our team who sell FENSA-approved double glazing products that carry the BSI kitemark.
 Brackenwood can help you with Conservatories, your Roof Line, Solid Roofs, and Garden Rooms, as well as double-glazed Windows and Doors, so don't forget to head to chat to our team to check out everything we can do to help you. We install our double glazing solutions into homes all across Hampshire, Berkshire, Wiltshire, Dorset, Surrey, and West Sussex.